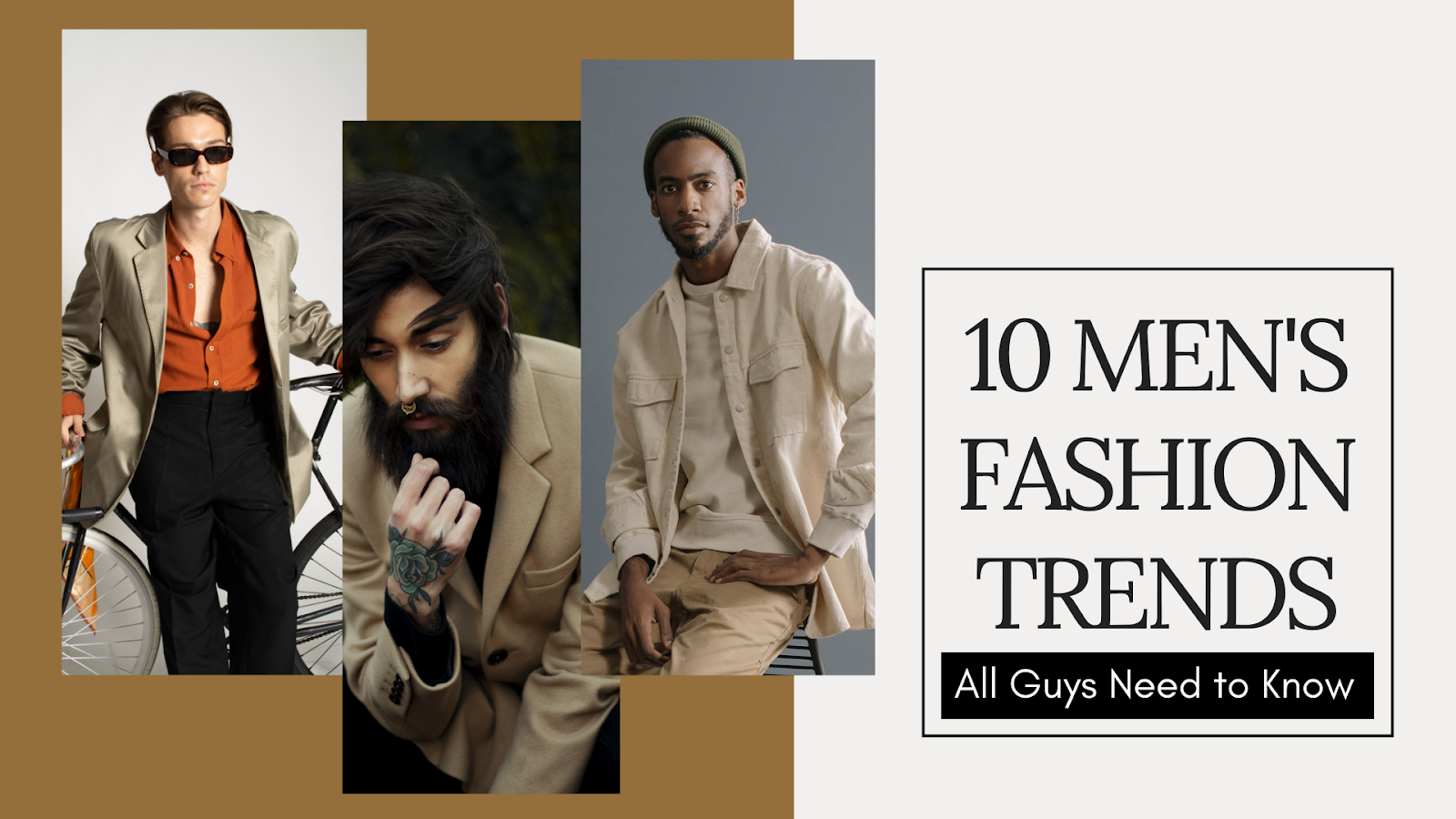 Fashion trends keep changing, just like the four seasons. In summer, you'll spot several men giving off Miami beach vibes, while in winter, they'll sport classic and high-end wardrobe collections.
But some fashion trends evolve with time, regardless of the season. Although we encourage everyone to dress up as they want, having a few trendy pieces will help you spice up your looks. Be it a jewelry item, an accessory, footwear, or your haircut; it must go with your personality and attitude.
So, if you want to join the men's fashion bandwagon, have a look at these popular trends.
Top 10 Men's Fashion Trends You Can Try
Men's fashion isn't just limited to solid-color t-shirts and baggy jeans because they're just part of your outlook. Things like haircuts, beard styles, accessories, and footwear are also important if you want to make a lasting impression.
So, if you're looking to make an impression, try these fashion trends.
Leather Jackets
Leather is undoubtedly a classic wardrobe piece for every man. With appealing and rugged looks, leather jackets never seem to run out of fashion. As a bonus, these timeless clothing items keep you warm and in style throughout the chilly winters. 
To style your looks, you can select a versatile motorcycle or a cropped leather jacket. These picks can be an ideal investment as they'll last a lifetime.
High and Tight Haircut
The high and tight haircut for men is a wonderful haircut for men. This simple men's hairstyle is military inspired and offers a rugged and masculine feel. It features short or faded sides and a longer top and back. In short, this haircut renders a clean and adorable look.
However, to get the right hair length, you may need a professional hair stylist. If you visit Chaps and Co or any other professional men's salon, ask the barber for this dapper haircut. Working with professionals will increase the chances that you'll get the haircut you want especially if you're going for a specific look.
The best part is that you can enjoy the freedom to play around with your hair length. Choose the length for your sides, skin fade, and top and back. You can even opt for a more sophisticated and professional look to impress your employers on your next interview.
All-Over Denim
Denim is the all-time favorite fashion choice for men. It's a durable fabric useful for bags and textured clothing. Usually, men can have multiple denim pieces in their closet, be it a shirt, jacket, or pair of jeans; denim is always on their list.
For an iconic and fashionable look, you can combine multiple denim clothing items. Not only can this look keep you warm during winter, but it also provides comfort.
A Scruffy Beard
The scruffy beard can add grit to any man's look. Whether your beard is patchy or thick, this beard look is suitable for most men.
To have a scruffy beard style, you should allow your hair to grow for around two or four weeks. When you reach week three, you must trim your neckline if the scruff continues to grow towards your Adam's apple. If you skip this step, your beard can be mislabeled and appear as a neckbeard.
But beware, the scruffy beard can be itchy. To avoid this inconvenience, you should keep your skin hydrated and conditioned using handy products like skin moisturizers, creams, lotions, etc.
Regulation Cut
The military-inspired regulation cut is characterized by its brief length and side part. It's a simple look that's both classy and practical. Short sides and back with greater length at the head's top for a side portion.
The combo looks very tidy and polished and is quite macho. To wear this hairstyle, use a styling aid that gives off a glossy, smooth finish while keeping everything in place.
This is an excellent haircut for someone who desires a simple hairdo that works for various settings, even with more formal ones.
Wide Legs
For men, skinny legwear is no longer on the menu. Not only that, even slim fits are less popular nowadays. Instead, you can easily spot men dressed in relaxed-fit pants, reminding you of the 90s or 80s.
These loose pants offer the best styling options. Additionally, they are incredibly comfortable, so you can wear them all day long.
Clean Shave
The clean shave is the best low-maintenance style for men who want to appear macho and don't have time for styling. For this look, you must shave your head for the haircut, which might give you an intimidating appearance.
Men sporting shaved heads are frequently regarded as more muscular, tough, and confident, which is a pro to this haircut.
For a clean and contemporary look, it would be ideal to shave off all facial hair. However, some guys prefer to create contrast by sporting a beard or even just a little stubble on their chin.
To maintain your ideal length, you must visit your barber regularly. Nevertheless, this is a very chic and hassle-free choice, and you'll be able to stop using your grooming supplies.
Polo shirts
Summers without polo shirts are incomplete. From the tennis-inspired style, open collar polos to classic pique, polos are suitable for timeless choice for most men. You can easily style them with your chinos, shorts, or almost any other bottoms of preference.
Varsity Jackets
Varsity jackets have been in fashion for over a century. These stylish jackets have ribbed cuffs and hems and look short on your body. For a preppy look, these jackets are a go-to choice. You can pair them with penny loafers, jeans, black sunglasses, or crisp white tees.
Technical Sandals
For a fun hiking day, technical sandals should be on every man's list. These sandals are a practical choice in place of leather sandals. They often come with waterproof straps and rubber soles with velcro for a comfortable grip. If you love long walks, these sandals will become your favorite. fun hiking day,
Final Thoughts
Men's fashion features several trends now and then. From cool leather jackets, clean shaved heads, and scruffy beards, these fashion trends can help you look edgy.
You can buy these clothing items from your favorite brands and visit your barber for fresh haircuts. Not only that, these trends are usually timeless, so you can wear your preferred looks multiple times.