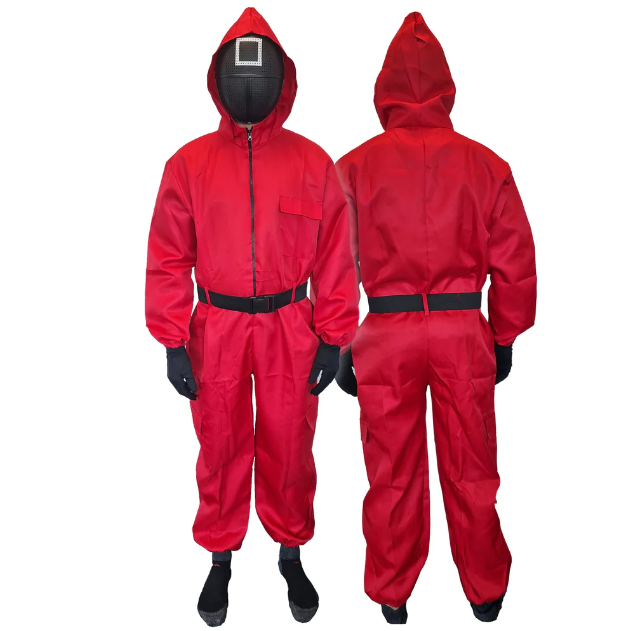 There is a recent party invitation from your best friend. The venue is set, but you still have one major dilemma — what should you wear?
You would definitely want the limelight at your friend's party. But wearing those conventional costumes has become a tad boring. So, you want a new set of ideas. Maybe, a refreshing costume suggestion list.
Well, with the cosplay costume market growing at a staggering rate of 17.4%, you have several options in funny mens costumes to explore.
However, your choice should be to dress up as a trendy new character. So, what are your new-age options? Find out in this article.
Idea #1: The Squid Game Look
Want to capture everyone's attention with your intriguing look? Choose the red-coloured tracksuit from a reliable store.
You can also opt for the aqua tracksuit to exhibit a more soothing look. Now, how can you add the fun element to this costume? There are lots of options you can try at Fancy Dress Online.
Customise the look with a squid game boss mask. You can match any variant of the costume and create a funny aura. Notably, the series' popularity will always captivate the attention of everyone at the party.
Idea #2: Forrest Gump Running Costume
This next idea does not require a huge investment. In fact, all you need is a nice long beard, red cap, and shorts to bring the look together. While Forrest Gump is indeed an old movie, the iconic character still has the potential to stand out in the new age.
Moreover, a Forrest Gump costume can make you look funny as well as evergreen. Notably, you have the scope to imitate Tom Hanks and become the life of the party!
Idea #3: Borat Mankini
Who does not remember Borat? This hilarious character has the ability to make everyone laugh without much effort.
Now, you can dress up with the popular green-coloured Borat mankini at any party. Yes, you need some courage to walk into the room with minimal clothing. However, this is an apt option if you intend to explore new-age trendy characters in the funny mens costumes category.
Notably, you can dress up as Borat without much effort and time. Hence, this costume can be a last-minute decision.
Idea #4: The Jon Snow Look
Even though Game of Thrones is no longer active, the popularity of this series is still high. Hence, dressing up as the famous character Jon Snow can make you look unique and funny.
Also, you do not require much preparation, as a black cloak, jeans, and combat boots will do the trick. How can you add a fun element to this look?
Well, talk in the weird Jon Snow accent! You will immediately attract everyone's attention at any party with such a unique combination.
Cosplay costumes add an exciting element to your personality. You can imitate the most popular characters and light-up any party.
The ideas in this article are easy to implement and do not demand much preparation time. Also, you can act funny or experiment with the overall look per your mood and the occasion.
It is crucial to realise that you can buy readymade costumes of new-age popular characters without hassle. Just choose the right seller who offers a wide variety. Buying fancy and trendy costumes from such stores can save you the time and effort needed to prepare one from scratch!