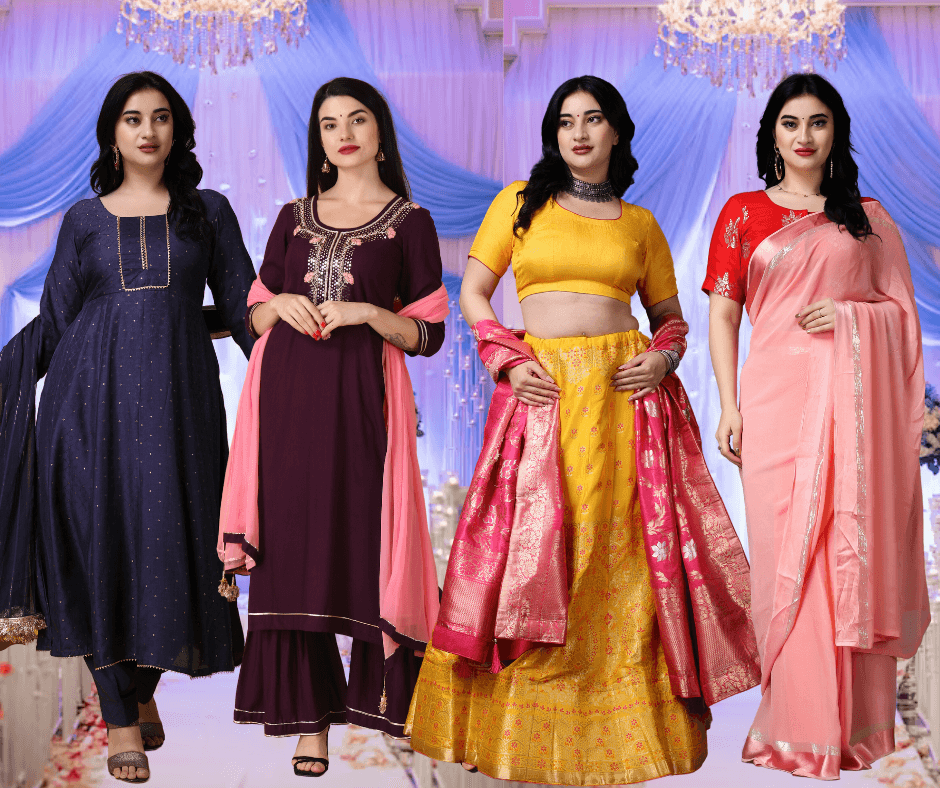 Weddings are a time of pleasure, celebration and all women desire to look stylish, beautiful and feel confident, regardless of their size. Plus-size women no longer have to settle for limited options when it comes to ethnic wear for weddings.
The fashion industry has embraced inclusivity, and today, there are numerous stunning choices available for curvy women. In this blog, we will explore five breathtaking Plus Size Ethnic Wear ideas that will make you shine at wedding functions.
1. Plus Size Anarkali Suit
Plus Size Anarkali Suits are the best choice for wedding functions. Plus-size women can opt for floor-length Anarkali suits with a fitted bodice and flared skirt to create a flattering look. Select breathable fabrics like chiffon or georgette that enhance your curves beautifully. Embellishments such as embroidery, sequins or mirror work can add a touch of glamour to the outfit. Style it with cluster earrings and a matching clutch to complete your wedding look.
2. Plus Size Salwar Suit
Plus Size Salwar Suits are versatile and timeless, making them an excellent option for wedding functions. Many women prefer Plus Size Salwar Kameez when they go for weddings or any other special functions. For a plus-size silhouette, choose a well-structured suit with a straight or A-line cut. Opt for rich fabrics like silk or brocade to add a touch of grandeur. Pair the suit with a flared or wide-leg salwar for a balanced look. Add a dupatta with intricate detailing for an extra touch of elegance.
3. Plus Size Sharara Suit
Plus SizeSharara Suits have made a significant comeback in recent years, offering a fusion of traditional and contemporary elements. Plus-size women can rock a sharara suit by opting for a well-fitted kurta and pants that flare out at the bottom. Select breathable fabrics like silk, brocade or velvet for a luxurious feel. Look for sharara pants with intricate embroidery or embellishments for a statement look. Pair it with hoop earrings with a matching necklace, matching embroidered potli bag and punjabi juttis.
4 .Plus Size Designer Blouse
If you're planning to wear a saree or a lehenga, a well-fitted Plus Size Designer Blouse can make all the difference. Plus-size women can opt for a customized designer blouse that provides a comfortable and flattering fit. Consider choosing a blouse with a deep V-neck or sweetheart neckline to enhance your curves. You can try different sleeve styles like butterfly sleeves or full sleeves to add drama to your outfit. Elaborations like sequins, mirrors or embroidery can raise the look of the blouse and make it stand out.
5. Plus Size Lehenga
Plus Size Lehengas are the epitome of grace, beauty and we have many alternatives available for curvy women. Look for lehengas with a high waist and an A-line or flared silhouette to create a balanced look. Fabrics like silk or brocade work well for lehengas as they provide structure and elegance. Choose a blouse that complements your lehenga and opt for a dupatta with intricate borders or embellishments. To complete your wedding look, pair your lehenga with stylish jewelry, a beautiful clutch and high heels.
Conclusion
Wedding ceremonies are a time to have fun, love happiness and each lady wants to look beautiful, no matter her body size. With the availability of stunning plus-size ethnic wear options, curvy women can now embrace their unique style and shine at any wedding function.