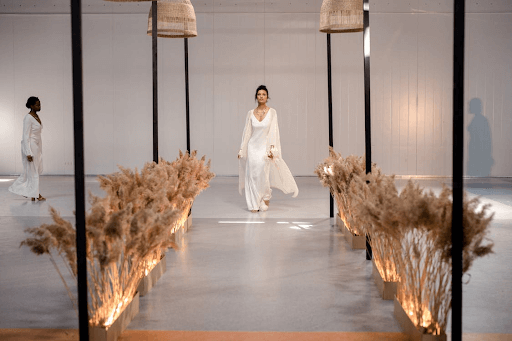 When setting up a runway, the possibilities are seemingly endless. However, one of the most eye-catching and inspiring elements found among these grand displays is Flowers! Utilizing an array of colorful patterns and textures to capture every viewer's attention, designers have been giving traditional runway looks a refreshing spring-style boost.
From warm earthy tones with succulents to vibrant hues for an everyday look, this timeless flower trend has been making waves in fashion design in recent years – from catwalk shows to exclusive events! In this article, we'll explore five unique yet glamorous ways that flowers can be used on the runway for unforgettable statement looks.
1. Highlighting Texture
Create eye-catching dimension and texture on the runway by incorporating a variety of fabrics with floral embellishments. Textured fabric like tulle and organza can be trimmed around flowers, petals, or leaves to add movement and visual interest. Incorporating velvet ribbon into floral designs can further create an effect that is regal yet lighthearted.
Furthermore, pairing such materials together creates the ideal foundation for unique finessing which can go beyond just contrast stitching! If we consider the potential combinations, it is clear there are endless possibilities for designers to express their creativity.
2. Combining Colors and Patterns
Bring a whimsical dimension to the runway by experimenting with vibrant colors in floral design. Color-blocking two-tone roses or adding golden accents to blush petals highlights how both bright and muted shades can become part of the same scene.
Moreover, patterns incorporating wildflowers, tropical foliage, and swirling green vines have been seen reigniting classic silhouettes like sweetheart necklines, cinched waists, high-low hemlines, and A-line gowns.
Mixed together, these combinations give the opportunity to bend fashion norms and create one-of-a-kind designs for any special event. Whether dressed up or down, floral patterns are sure to bring a unique, captivating statement look that's also perfect for fashion photography. They stand out from the sea of options available on the runway.
3. Using Unexpected Configurations
Flowers can be arranged to follow a standard design aesthetic, but why connote to convention when you can create something truly unique? Integrating flowers in asymmetrical ways or creating multi-dimensional patterns allows the audience to experience artistry beyond the obvious – which is an invaluable element of fashion runway shows.
Not only do these options bring depth and dynamic movement, but they also evoke emotion by captivating those watching with visual intrigue. A smart usage of unexpected configurations will draw attention while still allowing other garment details to shine through because of its subtlety.
There's no reason for floral designs on the runway to be typical. Deviating further from tradition adds texture, emphasizes symmetry, and breathes life into a classic look.
4. Blurring the Lines between Glamour and Simplicity
Flowers have the ability to bridge time-honored glamor and modern simplicity. For example, contrasting diamond-encrusted chokers worn with subtle drop earrings can be beautifully set off by delicate stems of roses or lavender—creating an eye-catching design that speaks volumes without overpowering the look.
Additionally, earthy plants like succulents, daisies, and forget-me-nots alongside gold accents help bring a taste of nature to chic evening looks while still keeping a minimalistic touch. These unexpected contrasts are sure to create beautiful pairings that not only look stunning but also captivate attention on the runway –giving audiences something truly noteworthy to talk about!
5. Sustainable and Eco-Friendly Elegance: Use Flower Bouquets As Props
Lastly, another interesting way to add a touch of uniqueness to the runway is by using elegant flower bouquets as props. You could choose to place them for décor around the runaway or have models hold various kinds of bouquets as they catwalk their way along.
But as the world becomes more mindful of its environmental impact on the planet, the usual suspects like unmindfully sourced roses, lilies, and tulips can now take a backseat. Eco-friendly alternatives allow beauty to be reimagined without sacrificing sustainability.
Florists are actually becoming more aware of the importance of sustainability practices like minimizing their carbon footprint. As you may notice from the collection of sustainable floral arrangements at bouqs, they are not only acquired fresh from the farm but also grown sustainably by responsible farmers who care.
You can as well consider natural elements like succulents, daisies, sunflowers, and forget-me-nots for bouquets that look stunning but also last much longer than your average cut flowers. Moreover, reusable materials such as dried foliage make an appearance on the runway, with their earthy textures complementing the splendor of flower-embedded motifs.
Suitable for a wide range of products, such as jewelry and hats, flowers not only revitalize garments but also project an effortless elegance– gaining attention from conscious consumers with every stride. Sustainable options do the job even better while minimizing environmental destruction.
And there you have it! Swaying the traditional runway formats, flowers can be used in countless ways to bring a sense of charm and extravagance to any catwalk show. From warm earthy tones with succulents to vibrant hues for an everyday look, this timeless trend always serves as a head-turner on (& off) the runway!