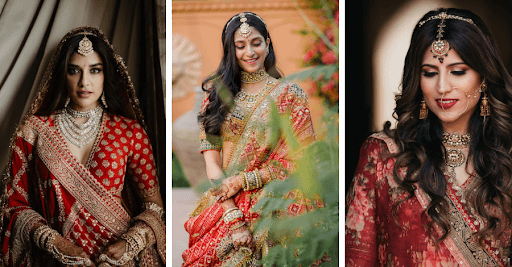 Weddings are the biggest events in India. Everyone dresses up to the nines and looks their very best. Whether you are the bride or a bridesmaid, we all know how vital your outfit is. However, often we need to remember that it is not just the outfit that makes or breaks a look. To be the shining star at any event, you must support your garments with your hair and makeup. Npw, your makeup is the easy part. A good, minimal dewy look or kohl-rimmed eyes never go wrong. However, your hairstyle is detrimental to the final outcome. The days of elaborate buns being the only ideal hairstyle are long gone. Nowadays, everyone is looking to experiment and try out new hairdos. Thanks to Alia Bhatt, an open hairstyle for wedding has really started trending.
Now, we know what you are thinking. Buns are the classic updo for a reason. They look great with everything! Well, you would be right to a certain extent. Buns make sense when you want a fuss-free hairstyle or wish to wear a matha patti. However, a sheesh patti looks better with open hair and So do mang tikkas. Additionally, open hair also gives your Indian wear a modern, youthful look. So, if you are someone who is looking for an open hairstyle for wedding but is confused, you have come to the right place. We have curated a list of the best open hairstyles for the bride and the bridesmaids. So, keep on reading.
Source: Mini Mahadik, Shraddha Kapoor
Top Open Hairstyle For Wedding
Blown Out Open Hairstyle For Wedding
Starting with a classic, we can assure you that a chic blowout will look great with all outfits. It is an elegant and sophisticated hairstyle that will compliment your bridal outfit as well as any outfit you choose for the pre-wedding functions. A simple blowout makes your hair look put together. With proper setting and pinning, it will not fly away or bother you. Remember that blown-out waves do not provide a lot of volume at the crown of your head. So, we suggest wearing this open hairstyle for wedding when you have a dupatta on top of your head that you do not have to remove. Better yet, reserve it for a pre-wedding function.
Source: Stories by Joseph Radhik, Dot Dusk Studios
Styl Tip: To update any open hairstyle for wedding, add the latest trending accessories for some bling.
Side Parted Open Hairstyle
Centre-parted hair has been having its moment for the last couple of years with Gen Z making a case for it. But there is something to be said about the voluminous asymmetry of side-parted hair. Side-parted hair with waves or curls is perfect for events like the reception and sangeet. If you have long hair, you can keep one side to the back of your shoulders and the other cascading down the front. This hairstyle looks great with waves and curls in your hair. They add more volume and drama to the hairstyle, making it perfect for a wedding. With an open hairstyle for wedding like this, opt for minimal hair accessories.
Source: Anamika Khanna, Filmfare
Styl Tip: As a rule of thumb, your hair accessories must be light with open hairstyles. They do have a lot of stay or hold, so your jewellery can easily slip and move around if it is heavy.
Pinned Strands
This is for girls who want to have an open hairstyle but cannot deal with the mess that comes with it. The solution to hair getting in your face, ladies, is simply pinning a few strands to the back of your head. You start by getting your hairstyles however you wish to. Then you take the hair that gets in your face in the front and pin it to the back. This way the open hair hairstyles will not get into your face and bother you. We recommend keeping the rest of your hair cascading down your shoulders in the front. This way your back will not feel crowded with the weight of the hair and the dupatta. With this hairstyle, you can easily remove all hair accessories and the dupatta after a while. Your look will not be damaged overall and you will be able to have fun without discomfort.
Source: AJ Studio, Israni Photography
Defined Curls Open Hairstyle For Wedding
Don't we all love those think bouncy curls that drip glamour? If that is your vibe, then this open hairstyle for wedding is for you. We recommend doing this hairstyle if you plan on removing your head dupatta at a later point. However, if you have a lightweight dupatta, keeping it on works as well. For this hairstyle, you will have to ask the hairstylist to bring some additional hair extensions. This will only add length to the hair but will also give volume. Make sure that the hair stylist adds hair spray and sets the strands properly. This will maintain the look for as long as possible and keep the frizzy flyaways in control. Finally, opt for lighter jewellery that will not clash with the curls or weigh them down.
Source: Ritika Hairstylist, Leena Bhushan
Sleek Open Hairstyle For Wedding
We took inspiration from Sonam Kapoor for this one. Her sleek straight hair at her wedding reception wowed everyone with its uniqueness. So, we recommend giving the straight-open hairstyle a chance. This look is great if you have long and thick hair. It is perfect for a minimalist bride who wants to keep her look simple, classic and sophisticated. The neatness of this hairstyle ensures that there is no hair getting into your face and bothering you. The best part is that this hairstyle complements all hair accessories. You can wear a sheesh patti, matha patti, mang tikka or even a hairband. Just make sure that there is very little to no added volume at the front to maintain the sleekness. But, also remember to backcomb your hair at the crown for a better look.
Source: Ablaze by Simran Takkar, Bianca Louzado
And that is it! Here is our list of the best trending open hairstyle for wedding. Do keep them in mind when deciding on your look, or better yet, reach out to us for our bridal styling services! For wedding or personal styling assistance, contact us at Styl-Inc and our team of expert stylists will get in touch with you. Stay tuned to Styl-Inc blogs for more wedding styling tips and tricks.
Until next time.
Keepin' it Stylish
Signing off,
Shravani Priya