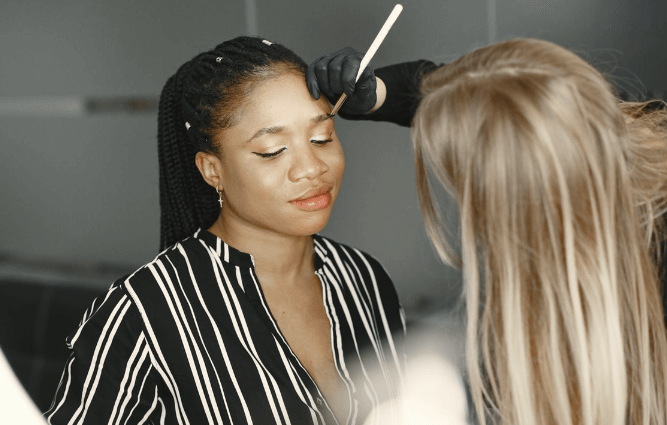 Your wedding day is a once-in-a-lifetime celebration, a day filled with love, joy, and cherished memories. As the bride, you want to look and feel absolutely radiant, and that's where professional bridal hair and makeup services come into play. Welcome to the world of "Bridal Beauty Bliss," where your dream wedding look becomes a reality.
Crafting Your Perfect Look:
On your wedding day, all eyes are on you, and every detail matters. Bridal beauty professionals understand the significance of this moment and are dedicated to creating a bridal look that enhances your natural beauty and complements your style and wedding theme.
The Expertise of Bridal Makeup:
Bridal makeup artists are masters of their craft, offering a range of services that include:
Flawless Complexion: Using high-quality products and techniques, they create a flawless, long-lasting complexion, ensuring your skin looks impeccable from morning until night.
Eyes that Sparkle: Your eyes convey your emotions. Skilled makeup artists can create a captivating look that makes your eyes shine, from subtle and romantic to bold and glamorous.
Lips to Remember: Whether you prefer a timeless red lip or a soft, natural shade, your makeup artist will help you choose the perfect lip color to complete your bridal look.
Expertly Defined Features: Bridal makeup artists are experts at contouring and highlighting, ensuring your features are beautifully accentuated in photographs.
The Magic of Bridal Hairstyling:
Your hairstyle is another key element of your bridal look, and professional hairstylists are there to make your dream hairdo a reality. Bridal hair services often include:
Elegant Updos: From classic chignons to intricate braided updos, hairstylists can create the perfect hairstyle that complements your wedding dress and personal style.
Romantic Waves: Soft, cascading waves that exude romance and sophistication.
Hair Accessories: Bridal hairstylists can incorporate accessories like veils, tiaras, or flowers into your hairstyle for that added touch of elegance.
Extensions: If you desire extra length or volume, hairstylists can seamlessly integrate hair extensions for a stunning effect.
Why Choose Bridal Beauty Bliss?
The answer is simple: it's your special day, and you deserve to feel like a queen. Bridal beauty professionals bring their expertise and creativity to ensure you look and feel your absolute best as you walk down the aisle. Their services are not just about makeup and hair; they are about capturing the essence of your unique beauty.
"Bridal Beauty Bliss" is more than just a beauty service; it's an experience that transforms you into the radiant bride you've always dreamed of being. With the expertise and attention to detail that professional bridal beauty services provide, you can confidently step into your new life as a married couple, knowing you looked and felt incredible on your wedding day.
So, when you're planning your wedding, consider the beauty professionals who specialize in "Bridal Beauty Bliss." Let them enhance your natural beauty and create a bridal look that will be remembered for a lifetime. It's your day to shine, and these experts are here to make it truly special.
This post was written by a professional at Michele Renee The Studio. Michele Renee The Studio Specializes in wedding hair and makeup in Orlando. Based in Tampa, FL, we serve a global client base for weddings, boudoir, corporate, film, television, social events, photo shoots, and more! Contact us now to schedule your appointment for your wedding hair and makeup!