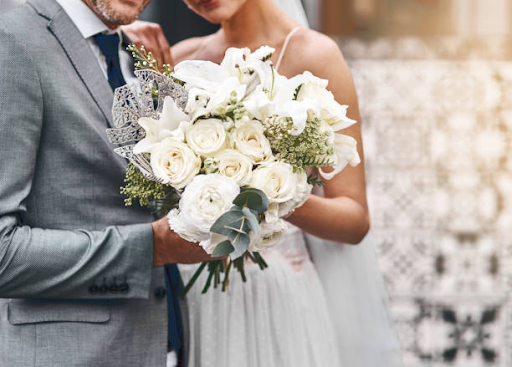 When it comes to the most important day of your life, every detail matters. One of the most important items that a bride needs to consider is her bridal bouquet. This small yet impactful accessory can set the tone for your entire look, and there are a variety of styles and types to choose from.
Read on to learn more about the different types of affordable bridal bouquet so that you can make an informed decision on your special day.
The classic round or dome-shaped bouquet is one of the most popular choices for brides who want a traditional look. These beautiful arrangements typically feature large flowers in soft colours like white and blush, with smaller accent flowers in shades like blue or purple for added interest. The stems are usually wrapped in coordinating ribbon or lace for an extra elegant effect.
For a more modern style, cascading bouquets have become increasingly popular over time. These stunning designs feature long ribbons and trailing stems that hang gracefully from the hand-tied bunch at its centre point. Cascading bouquets often incorporate lush greenery along with colourful blooms like garden roses and peonies for added texture and drama.
Determining a Size and Shape for Your Bouquet
When it comes to creating the perfect bouquet for a special occasion, deciding on the size and shape of your bouquet is one of the most important factors. The right combination of size and shape can truly make or break your arrangement, so it's important to take time when determining what works best.
When thinking about size, it's important to consider both the recipient and the event they will be receiving it for. A large bouquet may be more appropriate for a wedding than an intimate dinner party or anniversary celebration. On the other hand, if you are giving a bunch of flowers as a gift, you may want something smaller that won't overwhelm them with its grandeur.
The shape of your bouquet is also key in creating an aesthetically pleasing arrangement. Round shapes are often seen as elegant and romantic whereas cascading designs can add drama and movement to any room they are placed in. If you want something more modern yet classic look no further than fan-shaped arrangements that have been popularized by florists like Jeff Leatham who specialize in unique designs like this one.
Choose Accents for Your Bouquet
When it comes to selecting the perfect bouquet for your special occasion, the right accents can make all the difference. Accents can tie your bouquet together by adding texture, colour and visual interest. Whether you're creating a classic bridal bouquet or an eye-catching centrepiece, here are a few tips to consider when choosing accents for your beautiful floral arrangement.
Start with Your Color Scheme: When selecting accents for your bouquet, it's important to think about how they will complement the overall colour scheme of your floral design. Choose colours that are in line with what's already present in the flowers themselves; you don't want clashing hues or shades that don't fit well together. For example, if you're using white roses and light pink peonies in your arrangement, try adding some green foliage or a few sprigs of lavender as accent pieces to bring out their delicate hues.
Think About Texture: Accents come in all shapes and sizes from tiny buds to large leaves and they can add loads of texture and dimension to any floral arrangement. Consider pairing larger blooms like lilies or hydrangeas with smaller filler pieces such as static or waxflower for contrast and interest.