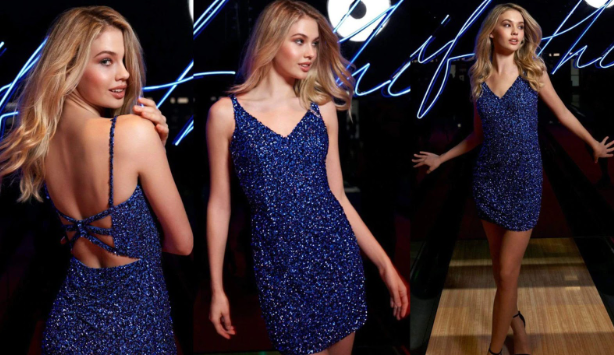 Champagne, dance, and glamour; a COCKTAIL PARTY is all about having the time of life. The best part about the night is to dress up at best and throw sass around like confetti. From a brand new cocktail dress to your favorite shoes, you would want to seize on everything stunning and unique. After all, who doesn't wish to stand out from the crowd!
Here, we have put together a complete checklist on how you can prepare for a cocktail party look and be an ultimate charmer.
THE DRESS
The dress is the most important part of your look. It reflects who you are and how you feel at a certain moment.
Speaking of cocktail night, your dress should truly express how much you love being at the party while showing off your figure. It should suit your body and make you look (and feel) more beautiful. Bonus point if your cocktail dress is in line with the latest trends.
Here are some dress tips to ensure you look "picture-perfect" for the party.
The general rule of thumb to look flattering is to dress up for the body shape. If you have an hourglass figure, a bodycon or sheath dress will help highlight the defined waist. Whereas curvy or plus-size women should plump for an empire waist, a-line, or fit & flare dresses to balance the proportions. These styles minimize the midsection, hips, and thighs, creating an illusion of a slimmer shape. These styles minimize the midsection, hips, and thighs, creating an illusion of a slimmer shape and here is the latest collection for clothes for fat women.
For skinny or rectangle-shaped women, a dress with ruffles or layers will add the desired volume to the look.
A cocktail party isn't the right place to have a Cinderella moment. You should steer clear of long dresses and gowns that trail out and about.
Knee-length dresses make up the perfect cocktail attire, as they can be both casual and semi-formal. You can also go for mini women's cocktail dress if all you want is to look bold and sexy for the night.
Cocktail attire isn't just limited to dresses. You can also opt for dressy pantsuits and jumpsuits for a chic "boss babe" look. They are the trendiest dress alternatives, best for standing out from the crowd.
Don't miss out on playing with styles when looking for the ONE. One shoulder, off-shoulder, and sequin jumpsuits are all the rage.
JEWELRY
Jewelry is a woman's best friend, and it's a no-brainer. From necklace to earrings, choose everything that complements your outfit and elevates your overall appeal.
Statement jewelry is certainly the best choice to draw all the attention. This includes layered necklaces, chokers, danging earrings, hoops, midi rings, etc.
Choose minimal jewelry if your cocktail dresses are already too sparkling or embellished. You may also consider ditching the necklace or anything extravagant to balance the look.
SHOES
Indeed, it's inappropriate to wear a Cinderella gown to the cocktail party, but shoes – "Oh, YES." Statement heels, such as stilettos and pumps, are the best choice to glam up the look. Depending on cocktail attire, you can pick the *one* in matte or sparkle.
Also, wedges and block heels are nothing less. They add desired height to your look while also making you feel relatively comfortable.
But if all you're looking forward to is dancing the night away, opting for smaller heels, or perhaps the flats or sneakers, is a smart idea.
BAG
While a bag isn't a necessity, it is a great way to exude feminine charm. It should be big enough to fit your phone, money, and lipstick but small enough to hide the dress silhouette.
Clutch, sling bags, and mini bags are the year's top trends. The *one* with a touch of bling is the trendiest way to add interest to a monotone cocktail dress for women and look stunning.
MAKEUP
Your cocktail party look is incomplete without makeup, and you know it. So, make sure to pay special attention to it.
Your makeup should complement your cocktail dress. Whether you work with your eyeshadow or lip shade, make sure the makeup brings the whole thing together and gives you the best possible look.
If you have opted for a pastel dress, the lighter eye shadow colors and nude, pink, or peach lipstick will be a wonderful choice. Nevertheless, it's great to add a pop of color, too. Red lipstick goes perfectly with neutral outfits, especially the chic LBD. It's just a great way to flaunt your passion for fashion.
Final Words
A cocktail party is a glam night that no one likes to miss out on. If you, too, are excited to show up at the upcoming cocktail occasion and make a statement, it's high time you should start preparing.
From the dress to accessories to makeup, ensure everything is stylish and vibes with your personality. You're sure to charm up everyone at the cocktail night!