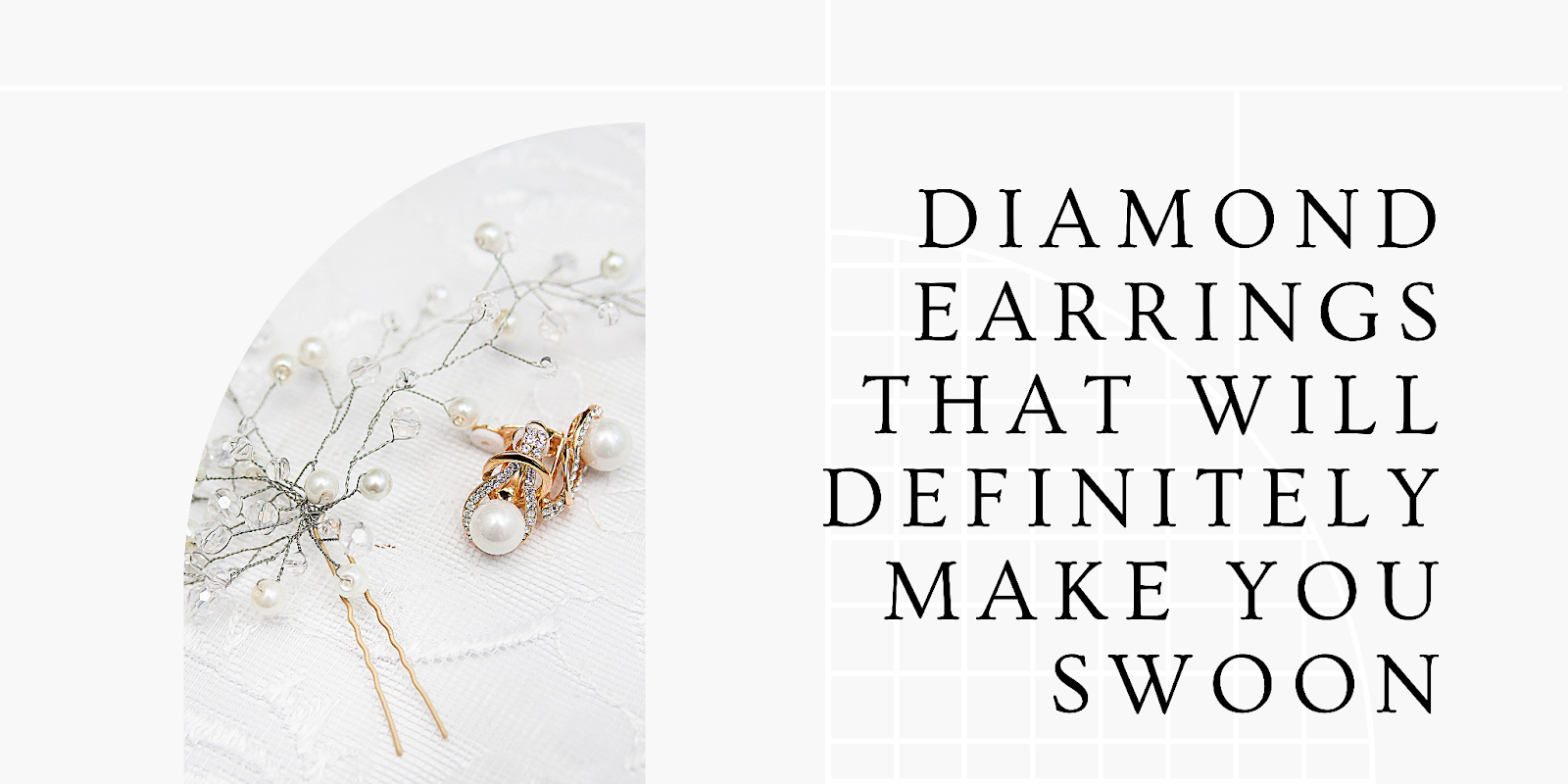 You know what they say about diamonds and girls-best friends! That's why the demand for diamonds keeps rising. And with the holiday season about to start, it's a perfect time to express love and appreciation to your loved one by gifting them with a gorgeous piece of diamond jewelry.
There's no more classic jewelry than a pair of diamond earrings. The most popular diamond earrings choices are diamond stud earrings and they come in different shapes to suit personal style and preferences.
This post will help you find different favorite diamond stud shapes and what makes them unique. Whether you want to buy your first pair of diamond studs or are looking for a new shape to boost your collection, these diamond studs will make you swoon.
Best Cut For Diamond Stud Earrings
You can be sure that a pair of diamond stud earrings are bound to be a hit, whether you're buying for yourself or gifting someone. Aside from being a favorite choice, diamond studs are timeless and light up any face.
There are several shapes to choose from to suit your style: round, pear, cushion cut and princess. Still, choose what suits your budget from the wide selection. As long as you choose the best shape and buy from a reliable brand, rest assured of owning the studs for the rest of your life.
Check out the most popular diamond cuts below.
The round cut is currently the most popular diamond shape due to its fantastic sparkle and classic appearance. The round-cut diamond features a "brilliant" cut style, which involves cutting a diamond in a way that brings out maximum brilliance. Better still, the round diamond is incomparable when it comes to its reflecting and refracting abilities. Its literally light play!
Though the princess cut diamond can compete with the round cut, the round cut's brilliance is world-class. However, the modern look of the princess cut makes it a more favorable choice among women worldwide.
Preferably, choose round-cut diamond stud earrings with 1 carat in white gold. This pair will match and stand out with anything you wear, any time of the day, for whatever occasion. It's gorgeous and a must-have for a diamond enthusiast.
You get excellent fire and a vintage look when you choose the cushion cut diamond stud. Previously called the old mine cut, the cushion cut has a rectangular or square shape with rounded corners. The cushion-cut diamond has been the most popular diamond stud earring for years because of its fiery sparkle.
The cushion-cut diamond shape blends well with any metal if you want to spice up its appearance. It would blend well with platinum or white gold if you want the icy look, or rose and yellow gold for the warm look.
For a better selection, 2-carat cushion cut diamonds in white gold blend well with the cushion cut's radiance of rainbow light.
The Asscher cut diamond is among the unique diamond cuts you can dream into reality. Its name derives from the Asscher Brothers, which formed this square-shaped cut with corners and step-cut sides in 1902.
These days, the Asscher cut diamond is alluring to people who especially love its antique look. If you want an excellent choice, buy two Asscher cut diamonds in white gold that boast an icy and symmetrical style.
Pear cut or teardrop diamonds are both distinct and beautiful. It's a popular diamond cut for people who don't want an outdated diamond shape. Though you'll not find it everywhere, it has a unique and eye-catching sparkle.
If you want a pear-cut diamond that will have heads turning, go for a pair with one set in chic white gold. This particular style of earring allows people to see the beautiful sides of this shape.
Choosing a Diamond Stud Setting Style
After picking your ideal diamond cut, select a good diamond stud setting style. A setting style significantly affects the style of your studs and how well they suit your lifestyle. For instance,
This is the most popular setting style choice for diamond stud earrings. Prong setting secures your diamonds using tiny pieces of metal called prongs.
Most people love the prong settings because they present an elegant style and allow for excellent light entry, causing the diamonds to sparkle to maximum effect.
Prong settings use any number of prongs but usually feature 3 main styles:
4-prong basket style
4-prong martini style
3-prong martini style
4-prong basket settings top the list because of its traditional and outstanding appearance. Then, 4-prong and 3-prong martini styles derive their name from the resemblance of a martini glass. They are also quite popular and have a more streamlined look.
There are two main benefits of Bezel settings; a distinctly modern style and admirable protection. A bezel setting of diamond stud earrings is ideal for only the round diamond shape. It holds and encloses the diamond's center in a loop of metal.
This metal loop provides maximum protection for your diamonds and other gemstones, making it a perfect setting for an active person. It's also sleek for that lady with a contemporary style.
This is if you're looking for a diamond stud setting that boasts glamor and power. Halo diamond stud settings surround your center stones in rings of tinier diamonds, which boost the whole glitter of your studs.
Aside from that, halo settings also offer a visual illusion by making the center stones appear bigger than the actual size. Generally, the halo settings bring extreme sparkle and drama to your solitaire jewel.
In most cases, this is a customized alternative diamond stud setting. The dangle setting allows the center diamonds to rest in prong settings that hang from a tiny ring closure.
Dangle settings are an elegant choice that makes your diamonds appear more glittering because they'll attract every ray of a light ray when you move.
Choose the Ideal Metal
You can choose from a range of 5 metals for your diamond studs – silver, white gold, yellow gold, rose gold, and platinum. The choice of metal depends on the user's active lifestyle and budget.
Platinum and silver have been metals of choice when considering a novelty, while yellow gold and rose gold have been favorite choices. It is ideal that you know the metal you have in mind for your diamond stud earrings. The choice of metal should ensure that it flatters your diamonds and enhances it in any style you wear. Take into consideration any metal allergies you might have before you decide on setting your diamonds in one.
Final Word
Diamond stud earrings are the most famous diamond styles. They are small, simple and ideal for everyday use. A diamond studs' shape, size, setting and material are a matter of individual preferences. The right pair of earrings boost your confidence, light up your face, and is a headturner on all occasions. So make sure you research well, understand correctly, and choose the earrings that suit you perfectly.