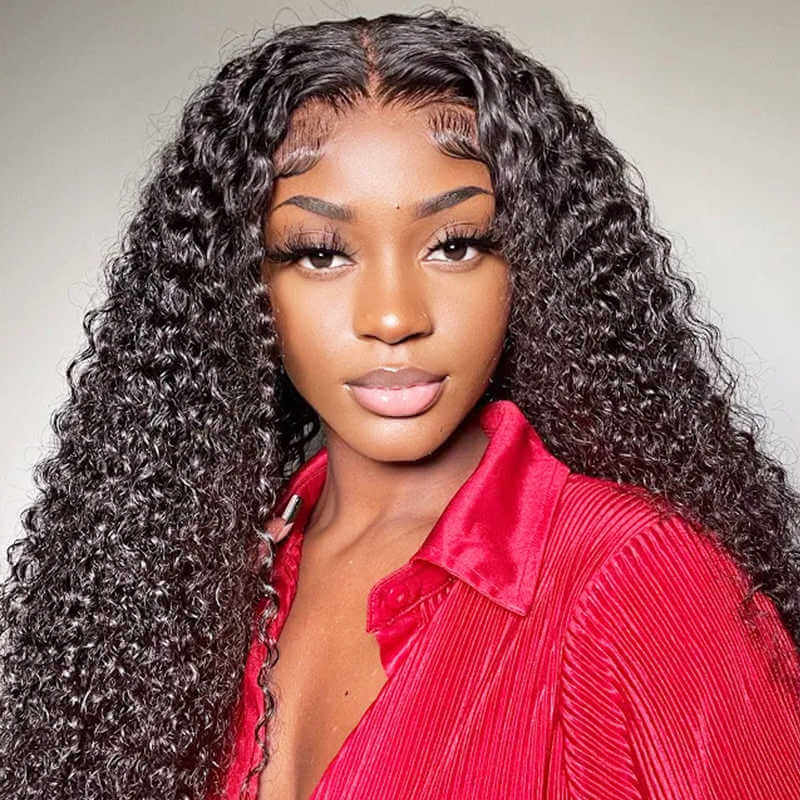 Glueless lace wigs, combine the benefits of glueless wigs and lace front wigs, allowing girls to choose freedom to follow their needs. Combining the healthy and beauty in wigs, glueless lace wigs balance security and are breathable for wearers.
The Unique Glueless Lace Wig in CurlyMe
Glueless lace wigs of CurlyMe with their unique design, are more suitable for wigs girls to select. There are unique designs of Glueless human hair wigs in CurlyMe.
*4×6 lace and pre-cut lace
Glueless lace wigs in closure are made of 4×6 inches of lace, which are longer than lace closure wigs, to create a more natural hairline and allow girls to enjoy more style choices.
Not only on the length of the lace changed, but the lace has pre-cut by the worker to fit the head well. Through zigzags and curves to fit the head, the lace is difficult to be discovered under all lights. CurlyMe glueless lace wig called "wear and go wigs". All well pre-styles already, you can wear it and go.
*3d dome and breathable cap
3d techniques are combined in the wig to a more comfortable wear for wearers. The glueless lace wigs come with a 3d dome that with material of lace and a breathable weft, to make sure they are comfortable and breathable for everyday wear, especially in summer, the breathable cap in 3d not only ensures the airflow but able ensures security for vacation.
*Wider band without combs
Support the head require the band to be wider, but over wide is hot in summer. The suitable wide of glueless lace wigs have experiment research show that combine security and comfortable feels. They can support the wearers' heads well to avoid the use of combs. Except for the security of the wide band is enough, the reason of remove the combs is also because the comb leads discomfort to for many girls, especially with sensitive skin. Here are the benefits bring to you of glueless lace wigs you should know.
The Benefits of Glueless Lace Wigs
1 convenient outdoor
Glueless lace wigs allow girls to wear and go in 30 seconds, and remove them in a short time. Without the use of glue or removing the glue, the glueless lace wigs achieve a convenient outdoor style for your activities. What's more, with pre cut lace wig design, pre-styled hair, and pre-plucked hair, the girls can achieve wear it in one step.
2 breathable summer
To ensure the breathable in summer if you wear a wig, the most important is the quality and materials of the cap. The glueless lace wigs in CurlyMe come with hd lace wigs, breathable weft, and a 3d dome to ensure the breathable wigs allow airflow largely.
3 versatile events
Glueless lace wigs with glueless closure wigs and glueless frontal wigs can be chosen, they both allow wearers to style in any method. Through leave a natural hairline and allowing free parts, much more hairstyles can be created, such as braids, updos, bubbles, half-up, etc. With different styling, the more occasions can be participated, from romantic nights to formal events, the glueless lace wigs can hold.
With high-quality glueless lace wigs in CurlyMe, the various styles can be tried boldly. For your summer events, whatever the colorful or classic style, they all can be chosen for your summer.