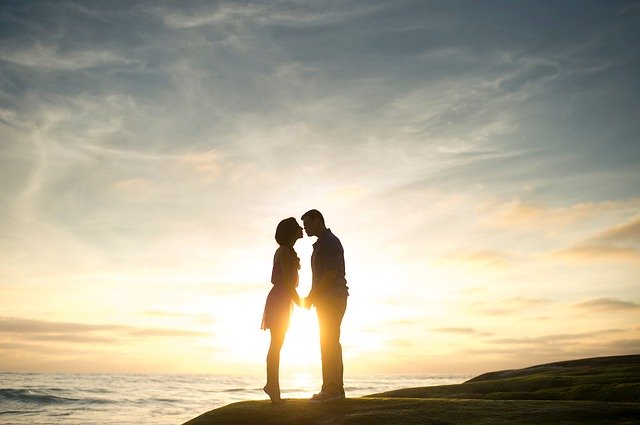 Want to surprise your loved one with a romantic video?
Pictures and videos bring back amazing memories, and there could be nothing better than making a romantic video, with the right message, the right images, and a beautiful background sound to evoke feelings of love and romance. Videos can charm your partner and you can convey an important message through these personal videos – or simply display your affection for him/her.
Making romantic videos doesn't need a reason, so any day can be chosen as a special day. So, create your fascinating video now and surprise your partner.
Before we start with the 4 simple steps to make a romantic video with pictures, you must know the 4 key points you need to follow before you start making your video.
Key Points
1 – Get Ready
Now that you have made up your mind, to create a dreamy video with your loved one, you start preparing for it. Pick the right images and the most beautiful moments of both of you that can tell millions of stories.
Images can evoke emotions that words cannot, which is why it is always advised to create an extraordinary video with images that can strike the right note in the heart!
If you're making a montage for a special occasion like an engagement party or an anniversary, you can ask your family members to share special photos with you.
2 – Choose the Right Picture Video Maker
Using the best software is essential to creating, editing, and sharing your romantic videos. Consider various options and do your research well before you select your picture video maker. Make sure, your software is well-equipped with templates, a lavish music library, and several edit options.
3 – Create and Edit Your Video
This is where you would need to follow the below-mentioned four steps. Once your prerequisites are with you and you are ready to create a video, you should follow a step-by-step process (mentioned below) and surprise your partner with an exclusive amorous video.
4 – How Do You Want to Share It?
Once you are done creating and editing your video, you must decide whether you want to make it personal or public. If it's only meant for your partner, share the gorgeous movie when you are with them. If you want the world to see and acknowledge your great love story, you must extract the video and share it on your social media channels and YouTube personal channels. If made well, your video will gather countless likes, shares, and comments of awes and wows. Everyone appreciates a good story and your stunning romance video can sweep your family and friends off their feet.
Now let's go through the procedure of creating a romantic video from the most cherished photos you have with your loved one!
Step-By-Step Procedure to Create a Romantic Video from Images
Let us go through the steps you need to take to create a great video.
Step 1 – Pick the Right Images
Choose the most touching moments of your romantic life and create a thread of beautiful memories that matter the most to both of you. Find something crazy, meaningful, or even hilarious in your gallery and stitch them on the template of your software.
Creating the video is quite simple as most software tools will provide you with a template and a tutorial to walk you through each step of the process. Pick the perfect frame and import your pictures in the photo editor.
Step 2. Edit Photos in the Video
Pictures with poor resolution can ruin the marvelous impact of your video. You must use professional software to edit and optimize your images so that nothing distracts the viewer from the central message. Here are some other edit options that you can try on your video:
Add some titles and captions and choose the desired transition style between photos with the help of a photo slideshow maker. You can choose how to move to the next slide and try not to make it abrupt.
Fix images by adjusting their brightness and contrast, applying filters, and removing unwanted objects or people from the background.
Choose the display time for each photo, change the video speed and add stickers – let your imagination run wild!
You can add or modify the text, size, color, font style, and alignment, and set entry/exit effects for text.
In addition to these pre-builds, you can also select a header, or subtitle and add input/output effects to it.
You can add object effects, motion effects, special effects, and transition effects.
Finally, you must preview the edits and make final adjustments before you move on to the next step.
Step 3 – Choose Lovey Romantic Background Music
Is there a special song that you both love? Or a song that both of you have beautiful memories attached to? Pick your soundtrack carefully as it's one of the most significant ingredients to evoke the right love and emotions in your video.
You can make a picture video with music by selecting an appropriate soundtrack from the extensive and rich music library of your software. You can also edit the existing background music or choose a new song/sound effect, from the library option. Make sure you pick from the vast variety of royalty-free music tracks, preview the music, adjust the volume, and you can also make it longer or shorter.
Step 4 – Finally Give the Finishing Touch to Your Video
You can create an alluring picture collage in a video or an automatic slideshow. Just upload the edited images and the song and set the video duration if needed. The software does the rest for you. It is highly recommended to preview what you have created before you share it. Also, you must extract the video and save it on at least 2-3 devices. Extract it on your mobile, so that sharing it with your friends becomes easier.
As mentioned earlier, you must decide whether to create a private romantic video just for your partner or if you want to share it with the world to appreciate your love for him/her.
Conclusion
Celebrate your love by gifting a well-edited video to that special someone. Create presentations, montages, slide shows, and romantic-themed collages, and add your message to them. Edit it lovingly by adding music, video transitions, colors, fonts, animations, and special effects. Present your video as a gift and surprise your loved one.

Creating a romantic video using a string of memorable pictures is trending and has become quite a rage these days. If you check your gallery, you may find hundreds of special and random moments which immediately take you back to those beautiful momentous days when you had the best time of your life with your partner. Use these images and stitch them together to create a profoundly stunning and fascinating video for your partner.