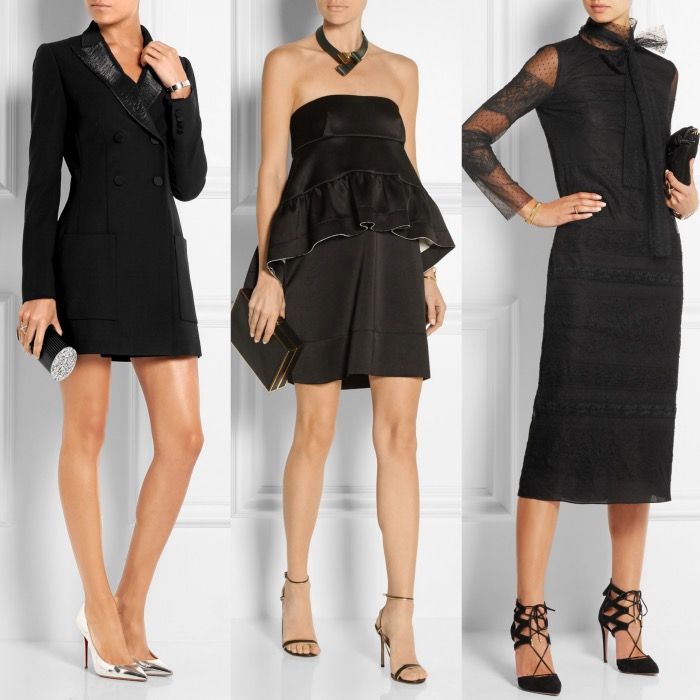 Unlike men, women enjoy not just a wide variety of clothing, but an equally large category of shoes as well. With hundreds of different clothing pieces to choose from, one category that many women love and will never go out of trend is the dress category. More than half the female population owns at least a pair of dresses. As much as dresses sound amazing, one aspect that many women fail at is matching the right dress with the right shoe. This, if not done right, will make the outfit look bad, and eventually many women just avoid dresses completely. If you feel this is you, then you need not worry here as in this article we shall talk about shoes that can be worn with dresses, especially those black dresses that many women adore. By the end of this article, you shall have enough knowledge and be confident enough to make your first shoe purchase to be matched with your favorite black dress that you can show off to your friends and colleagues at your next party.
Knee-High Boots
Knee-high boots for women are one of the best choices to be worn with black dresses. These shoes have been in the market for a really long time and have grown to be liked by many women. These shoes are practical, will make you look chic, and some will also make your overall outfit look expensive. In addition to all this, knee-high boots come in a variety of different styles, each telling a different fashion statement.
If all these seem pleasing to you and so you would like to buy a knee-high boot right away, then make sure you have a look at Dream Pairs Shoes for women. Knee-high boots from Dream Pairs are affordable and made of high quality material, making sure they not only last long but will also make you look rich as we mentioned above.
Sneakers
Being a shoe literally made for almost all clothing pieces for women, sneakers can really not be left out when talking about shoes for black dresses. With a black dress, a white sneaker is what I prefer as this greatly enhances not just my aesthetics but also makes me look young and youthful instantly. Additionally, when it comes to matching sneakers with my dress, I never have to worry about the combo not looking good.
High Heels
Little black dress, is so popular that every party or nightout going woman owns one. And for such a dress, there is only one shoe that I would recommend, the high heels. High heels will instantly make you look tall and fashionable, and once you buy them, you shall be addicted.
Pumps
The two major difference between pumps and high heels is that pumps have a close toes design and come in far less heel height as compared to high heels. This makes pumps slightly more formal as compared to high heels. So if you are a really tall woman who doesn't like high heels or a woman who attends business meets and needs a very similar shoe, pumps are your best option.
Snow Boots
Snow boots are best in business when it comes to protecting your feet from extreme cold. This means if you need shoes that keep your feet warm even during heavy snow, these boots are the ones you must go with. Though these shoes might not be the best choice for short dresses, they do look good and are recommended for long dresses.
Ankle Boots
Ankle Boots are a popular choice among women for dresses. Be it winter, summer or any season, ankle boots with a black dress with never disappoint. One of the most famous types of ankle boots is the Chelsea Boots. Make sure you look at them if you plan on buying ankle boots this year.
Heeled Sandals
If you have never heard of it before, then heeled sandals are just sandals that have been made specifically for dresses and outings such as date nights and parties. These shoes, as the name suggests have a heeled design, and are usually open-toed without losing the breathability and comfort factor of your normal sandals. This makes these shoes the best choice for women who don't like the idea of normal sandals with dresses but need something very similar, at least in terms of comfort. But hey, if you do prefer normal sandals with your black dresses, feel free to wear them.
Ballet Flats
Ballet Flats are very similar in looks as compared to ballet dancing shoes. Ballet flats are extremely flexible, making sure they last a long period of time. These shoes are more suitable for women who prefer to take a break from high heels or any heeled shoe for that matter but still need a go-to shoe for black dresses. Additionally, do note that due to the lack of any arch support, these shoes are not meant to be worn continuously for a longer period of time as they are said to easily cause foot pain.
Final Thoughts
As much as a little black dress will make any woman look amazing, pairing them with the right boot will always enhance their looks to the next level. Though this might take some time and some trial and error to find your preferred style and blend, as a complete beginner, you can totally rely on the shoe mentioned in this article and start your journey from there. With that said, always have fun and experiment when it comes to fashion.