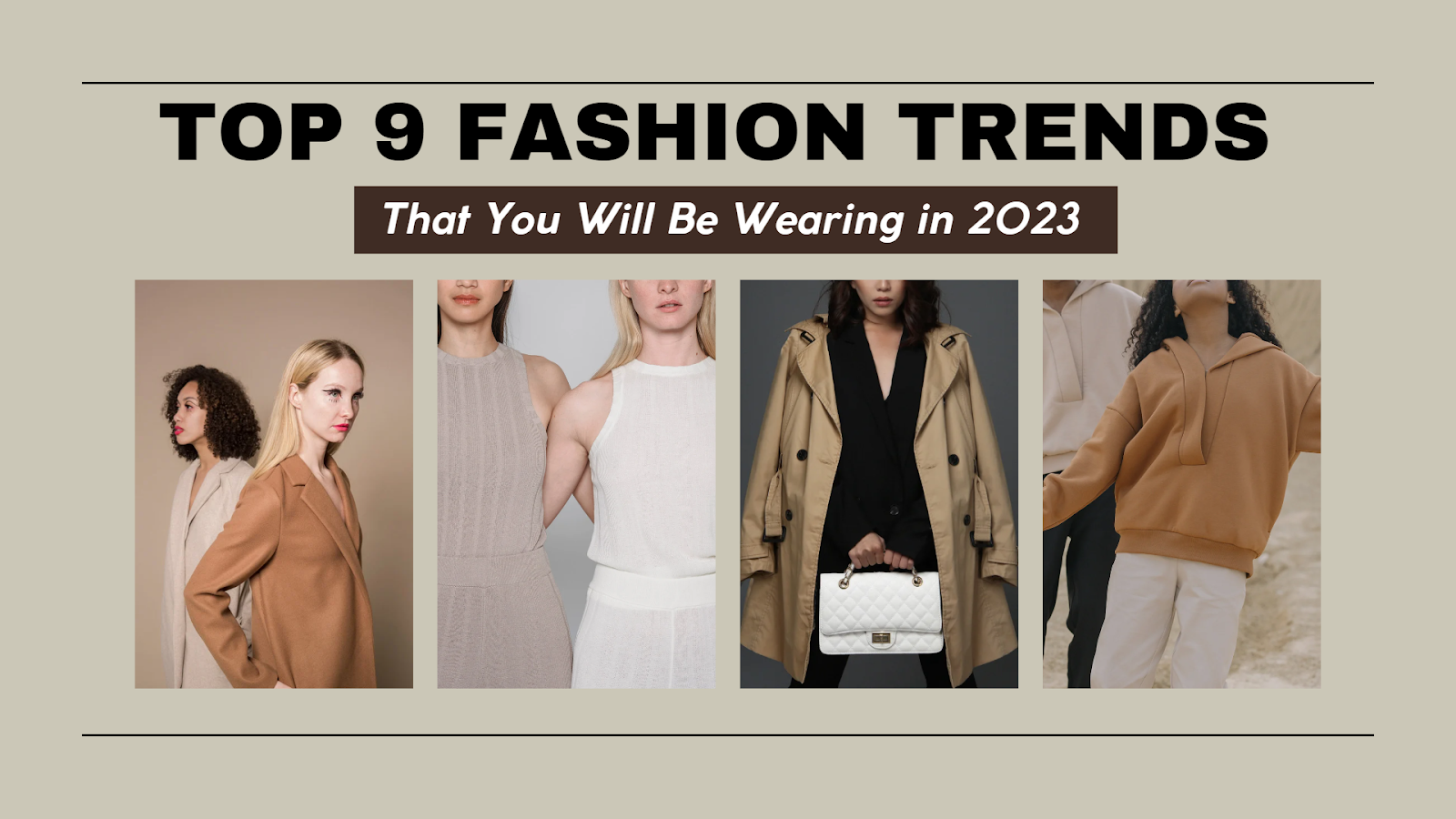 The way fashion trends change makes most of us wonder if we better stay awake all the time not to miss out on anything.
Fashion is ever-evolving. A style that may have been the talk of the town five years back might not be a good idea today. Trends are usually temporary but it is always a good idea to become a part of the current trends.
As we move toward the end of 2022, it's time to start preparing for the fashion trends that will rule in 2023. But before we move on, here's a small recap.
Popular Trends of 2022
2022 was the year of:
Wolf haircuts
Baggy oversized clothes
Solid colors
Mini Louis Vuitton bags
Fashionable tennis bracelets
Long boots, and more.
So, which of the above trends are going to continue, and which ones will vanish? It's a question too early to ask, but we can predict a few things.
What to Expect in 2023
With the start of a new year comes new fashion trends too:
The new "in" colors for the coming season
Trendy haircuts
Stylish patterns, etc.
So, for all the fashionistas out there, let us see what 2023 has in store for us.
9 Fashion Trends You Will Be Sporting Next Year
Have a deeper look at the colors, styles, pieces, and cuts that will be taking over the fashion world in 2023 and will be seen everywhere on our Instagram feeds.
Mini Louis Vuitton Bags
With its timeless designs, classic pieces, and top-tier quality Louis Vuitton has ruled the fashion world for over a century. And continues to do so. Louis Vuitton tote bags have been an all-time favorite. But 2023 is the year of mini Louis Vuitton Bags.
An LV small bag can turn any basic outfit into a classy one. Whether you are wearing matching separates, coats or long skirts, a Louis Vuitton mini bag to flaunt with it will make for a perfect OOTD.
Blazers
Sophisticated. Modern. Chic. Three adjectives that perfectly describe a blazer outfit. A blazer will be the perfect addition to your wardrobe. Blazers have gradually made their mark in the fashion world with their sheer elegance.
And no, we are not just talking about brown and beige blazers but purples and pinks too. Blazers give you that perfect oomph to your outfit.
A tailored blazer with gold hoops and some delicate rings will make for an amazing outfit to wear.
Neutrals
2019 and 2020 were the years of pastels; in 2022, the solid dark colors took over. Meanwhile, 2023 seems to be the year of neutrals. In the Ready-to-Wear Spring 2023 line released by brands around the globe, neutrals dominated the collection.
Neutrals are always a safe choice. They instantly give an effortlessly graceful look and are so fun to play around with. Neutrals can be paired up with colorful chunky jewelry, hats, bags, or black heels.
A cream-colored top, and pants with a Louis Vuitton mini bag will be a perfect look for a date night.
Velvet Nails
Nails are a great medium to express your current mood and feelings. A good manicure can make or break your outfits. We have seen the rise of pastel nails, Hailey Beiber nails, and the good old classic red nails. The next big rise will be of velvet nails, the next "it" girl trend.
They are fun, experimental, and trendy and add a new twist to your look. They are also Instagram-worthy, best captured while holding a Louis Vuitton mini bag with a serene background. For sure, it will get more likes than usual.
Curtain Bangs
Curtain bangs gained a lot of popularity back in 2020 during covid times. People were stuck in lockdown and to try something new and experimental people started cutting their own bangs.
Even though covid and lockdown are long gone but curtain bangs have stayed, and rightly so. If cut and styled the right way they compliment any face shape and add a beautiful flair to your hair. The good news is that the curtain bangs trend will be continuing in 2023 too.
Ruffles
While neutrals and blazers are basic, ruffles are perkier and unconventional. If you are someone who likes to step out of their comfort zone and try new things, then this trend is for you. Ruffles can glam up any outfit and can be included in a dress in several ways.
With some ruffles and tassels, even a simple black dress can turn into a glamorous one.
Ice Blue
The shades of blues will be ruling the year 2023, ice blue, to be more precise. An absolutely elite and versatile color that looks fabulous on pretty much everyone.
If you are inclined more toward delicate, timeless pieces, then ice blue is the color for you. An ice-blue long skirt, or a laced ice-blue dress, this color can make any garment look beautiful.
Cut Outs
It's the season of cutouts! Cut-out styles compliments any and every body type. They are stylish and contemporary. They can make even a boring and dull outfit look zesty. Cut-out makes an outfit look both bold and elegant.
If modern and trendy is your style then cut-out dresses and trousers are a must-have in your closet.
Layered Bob Cut
Pair up layers and a bob, and ta-da! You get an amazingly stylish, flattering haircut. Enter the new year with a layered bob, a chic yet effortless haircut that you can rock with any outfit and accessories.
The Final Takeaway
From the trendies Louis Vuitton mini bag to layered bob cuts, we hope this curated list helps you get an insight into what to expect in 2023 and do your closet revamp accordingly.
The good thing about fashion is that it is vast and there is a huge room to experiment, customize, and mix and match. It is a great outlet to express your personality through clothes, accessories, and shoes. There is a whole universe of fashion out there where you experiment with anything you like.
Trends are temporary, while the style stays with you for a long time. And even though it is incredible to follow fashion trends, at the end of the day, what matters is whatever you are comfortable in, gives you confidence, and makes you happy.