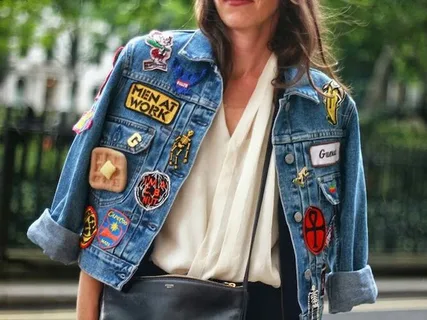 The 14th century is known to be the period when fashion became a thing, and people embraced it with all their hearts. However, it won't be too wrong if we call the 21st century the era of fashion's revival. We see so many trends being launched every now and then. People tend to worry more about their style and keep on looking for fashion hacks to enhance their personalities.
This blog is for all those fashion enthusiasts who struggle to find new ways to spice up their clothing. We will reintroduce you all to a trend that has been with us for ages but has now started getting relevant again. Yes, we are talking about customized patches for outfits. Personalized emblems are a great way to add extra charm to your wardrobe. Let's explore together some classic ways to use embroidery patches for styling outfits.
Top Fashion Hacks To Make A Bold Statement With Embroidery Patches On Your Outfits
Go For Your Favorite Movie, Song, Or Artist
Patches are all about expressing yourself. Just take the example of a tattoo. You get a design inked on your body that reflects your personality or shows your love for any specific thing. Similarly, embroidered badges are like your outfit's tattoos. You can tell everyone about your favorite music band or artist that you deeply admire. They will take the appealing factor of your clothing to another level while paying tribute to anything that you like the most.
Jackets And Patches Are A Match Made In Heaven
You can hardly go wrong with a jacket as your fashion accessory. Badges have always been a cool way to mend or fix distressed jackets. These days it has become a fashion staple to pair custom emblems with denim jackets. You can go all out with those huge back patches for jackets UK and make a bold fashion statement. It is guaranteed that all eyes will be set on you, and your outfit will become hard to ignore for people around you
Flaunt Your Funky Look With Small Patches
Are you planning to throw away your old, plain, and boring jeans and tees? Stop. You can bring them back to life with small badges. Small patches give you enough room to be wildly creative and go try any design that you like. From a simple pineapple to an eagle or any of your favorite logos, you can get multiple designs stitched to your jeans or t-shirt, and they will suddenly start giving brand-new vibes.
Add The Seasonal Vibes To Your Clothing
We all have some plain T-shirts in our closets that are sitting there and warming the cupboard for a very long time. You can revamp such clothing by getting seasonal patches. If it starts to feel like Christmas in the air, get some patches stitched in the form of pine trees or small candy cones. Similarly, for Halloween, you can pick some spooky emblems and give your clothes complete festive vibes. The trick is pretty useful because it will save you from buying expensive costumes.
A Special Tip For The Bikers Community
Bikers are a bunch of people who just want to enjoy their rides and get dressed up in a look that shows their obsession and passion for motorcycling. There are so many custom biker patches UK that you can get for your jackets and vests. It can be the logo of your Bikers gang or any quote that supports or promotes the culture. We have seen motorcyclists customizing their bikes, but now the latest trend is to uplift their on-road look. There can't be anything better than personalized crests to make yourself stand out among all the bikers.
Make Your White Sneakers Pop With Colors
It might sound strange, but it is true that you can apply patches to your sneakers or any plain shoes. The option is to go with your white sneakers and get some vibrant badges for them. This is your chance to achieve the all-what-you-ever-wanted look. The design could be any emoji that you like. One thing that is quite essential for customizing shoes is the size of the patches. You can not go too big or too small. The right size will surely enhance your sneaker game.
You Just Need A Right Patch To Complete Your Denim Look
Denim jackets or jeans covered with patches was a trend that was lost somewhere, but now it has returned back from the fashion grave. Some of us don't have several denim products, and it is also quite hard to buy new ones frequently. So, the most handy option is to get your denim clothes revived with stylish patches. Your outfit will suddenly become the center of attraction. You would just need to pair your patched jacket or jeans with a basic tee, and now all eyes will be set on you.
Don't Forget To Customize Your Headwear
If you look online, you will easily find custom embroidery patches UK for hats or caps. There are so many people who are unaware of the fact that headwear is the first thing that gets noticed in your look. From baseball caps to snapbacks and beanies, there are so many options available that you can customize with emblems or your favorite sports teams. The streetwear culture of aesthetic apparel is incomplete without caps, and a cap without a patch is like an action film without the action hero.
Let's Sum Up This Patchy Blog
No one wants to lose the fashion battle, even on their normal routine days. We have told you the best trick to enhance the personality of your outfits and add pizzazz to your clothing. If you follow all these tips and tricks that are mentioned in this blog, then you can easily be the king/queen of the patchy look. You can go extreme with custom emblems or keep the patchwork minimal, the choice is yours.
We hope that this article will work like a fashion guide or style builder that assists patch enthusiasts to rock their quirkiest look for every occasion.