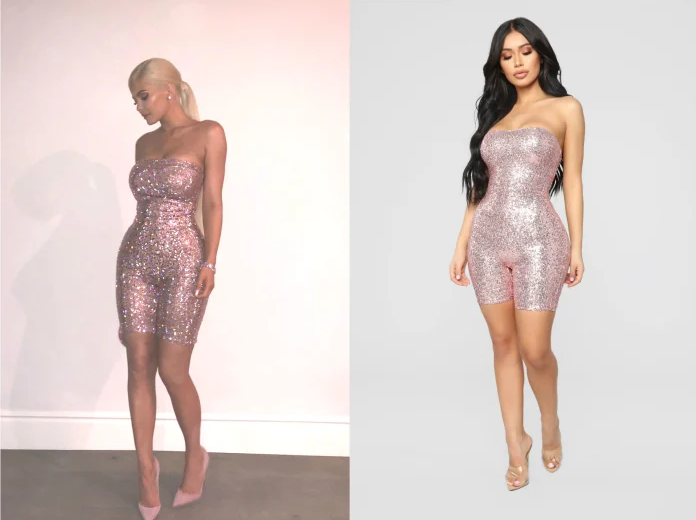 "My homegirl is the queen of Fashion Nova," says Dorian Wallace, an assistant manager at the fast-fashion chain Rainbow. Earlier this year, the friends realized they'd bought the exact same dress: Wallace from the store where she works, and her friend from — where else? — Fashion Nova, the Instagram-famous brand that's racked up more than 15 million followers in the few years since it joined the platform, along with famous fans like Kylie Jenner, Kourtney Kardashian and Cardi B.
The dresses were identical, save for one difference: Wallace's read "Ambiance" on the tag and cost $8.99, while her friend's read "Fashion Nova" and cost $17.99. They could have chalked it up to a coincidence (basic jersey dresses do tend to look alike, after all) but her friend inspected the tag on the side seam and, sure enough, it said "Ambiance" too.
Wallace wasn't surprised at the discovery, since she often spots styles that Rainbow carries stocked at other, trendier retailers for twice the price, but it was news to her friend.
"She was like, 'Wow!'" recalls Wallace. "She couldn't believe it.'
And she wasn't alone. Wallace later retweeted a thread comparing a dozen pieces from Fashion Nova alongside their Rainbow doppelgängers with the caption: "I work at Rainbow and this is [100 percent] facts. We buy from the same vendors as Fashion Nova. Only difference is that Nova label jacks the price up." The revealing conversation quickly amassed nearly 150,000 likes and retweets. In the replies, other women recounted stories of receiving pieces from Fashion Nova with tags for other trendy mass retailers like Charlotte Russe and Forever 21.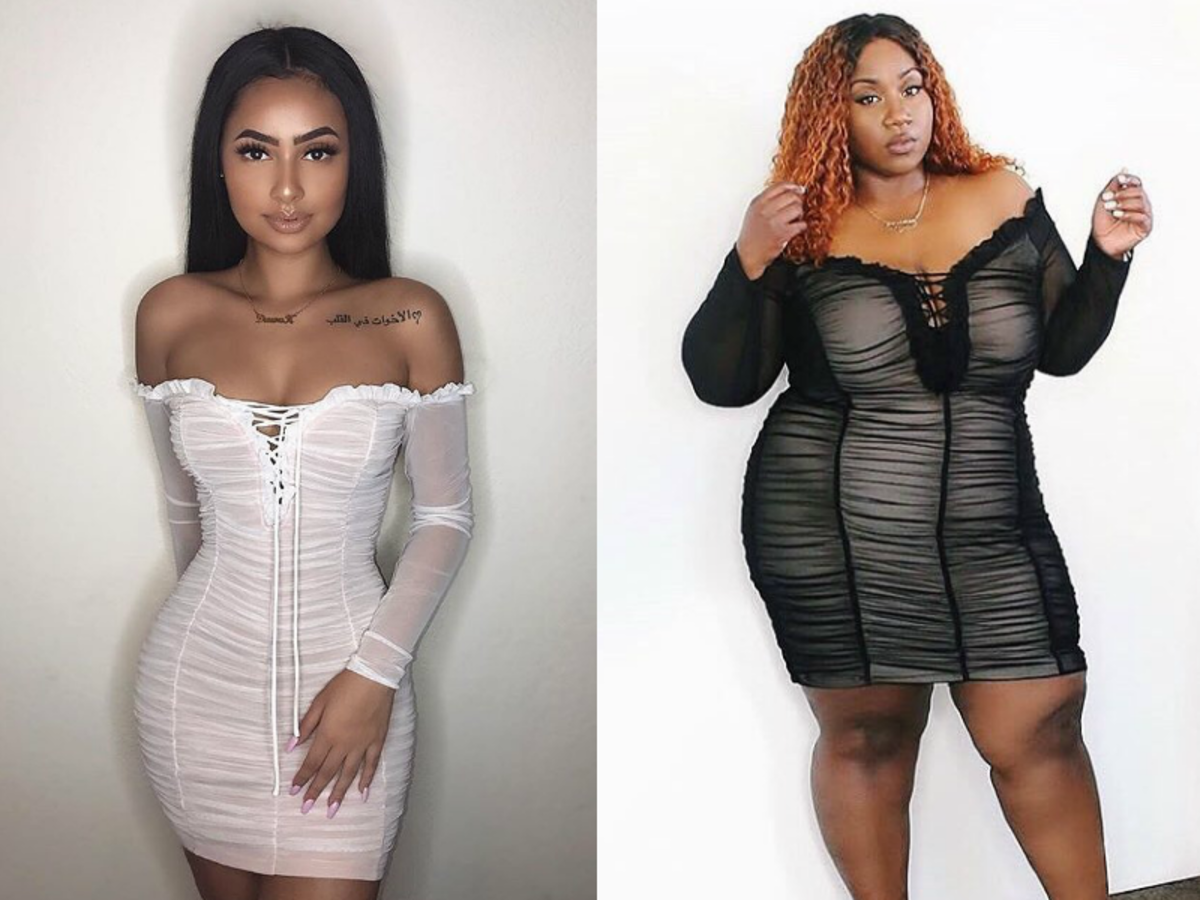 For those who work in fashion — particularly in wholesale or manufacturing — it might not be much of a revelation that certain retailers often sell virtually identical pieces under multiple labels and at different price points. (In fact, when reaching out to industry pros for this story, the common reaction was along the lines of, "Yeah….so, what?")
But for the average consumer, the inner workings of brand-supplier relationships are typically opaque, and only a small segment of the industry has embraced the kind of manufacturing and pricing transparency brands like Everlane market themselves on.
Meanwhile, new labels seem to pop up every day on Instagram offering of-the-moment styles that look, well, suspiciously similar to one another, tapping into a social media-fueled fashion environment in which branding and speed-to-market are often the most important things a brand can bring to the table. For example, Fashion Nova began promoting a capsule based on the outfits Kylie Jenner wore on her 21st birthday less than 48 hours after the celebrations commenced. The impressive rate at which Jenner's looks were replicated was prime material for a meme, resulting in a viral tweet that read: "The devil works hard, but Fashion Nova works harder." 
Fashion Nova declined to comment for this story, but the retailer recently said that it works with about 1,000 vendors, mostly in Los Angeles and China, who together manufacture enough product for it to release 600 to 900 new items per week. The site doesn't list any third-party brands, but unboxing videos on YouTube show customers receiving products with labels like Ambiance, Sneak Peek, WAX and Cello, alongside items with "Fashion Nova"-branded
The latter are the product of private labeling, a common fashion-industry practice in which a manufacturer agrees to attach a retailer's label to the items it produces, rather than selling them under its own label or that of a third-party brand.
"[Having a] private label does not mean that the label made the product," explains Ilse Metchek, the president of the California Fashion Association. "It doesn't mean that at all. It just means that I, as a retailer, want to memorialize my product with you, the consumer, and I don't want another entity's label to get in the middle."Scroll to Continue
It's a lucrative avenue for retailers, she explains, not just because of the higher margins (which can be around 70 percent compared to 50 percent for most branded apparel), but also because, at least in theory, customers can't compare prices with competitors.
"If I'm on mobile or on Instagram and I see a Calvin Klein or a Ralph Lauren garment, I can double check whether that garment with that label is in any other store at a discounted price," says Metchek. "But I cannot do that with a private label garment, so it also serves as a protection for the store. Somebody buying that from Fashion Nova because it says 'Fashion Nova' — they can't compare prices, because that's the Fashion Nova label."
Of course, as Wallace's tweet illustrates, the internet will always find a way to comparison shop. Some preliminary sleuthing in my own closet (aka close-reading care tags) revealed that both Need Supply Co.'s in-house brand Farrow and Brooklyn boutique Article & appear to count Los Angeles-based Emory Park as a private-label supplier. Emory Park also sells under its own brand name on ASOS and Nordstrom Rack, and a few pieces appeared on multiple sites under different labels at different price points as well.
This is hardly a unique phenomenon: Private label now accounts for about a third of the apparel market, according to market research firm NPD Group, and retailers like Target, Amazon and Walmart are increasingly steering customers towards their in-house lines over wholesale brands.
Depending on a retailer's private-label strategy, they might have an in-house team of designers working on garments from fabric selection to finishings, or — as with Forever 21, Fashion Nova and many others — they might have a team of buyers that source finished products from manufacturers, many of whom are based in the Los Angeles fashion district and attend industry trade shows. These buyers can order a style as-is, or they may have a say in certain product-development decisions, such as silhouette, color or trim.
"If they like the product a lot, they might just say, 'Yes, slap my label on it,'" says Gus Corral, a veteran retail consultant and global brand rep. "Or they'll just say, 'You know what, we've got some designs. We like this jean, but we want to change it up a bit.' And you go ahead, change the pocket, change the wash, tell them, 'These are the different fabrications I have.' It's not hard."
And as for what happens if multiple retailers want the same product? "At the end of the day, every manufacturer, every factory, all we're trying to do is survive," says Corral. "So if I get Dillard's and Macy's and they both come after me saying, 'Hey, can you private label? I like this jean…' Yeah. I'll do it."
Once the retailer has negotiated the terms and placed the order, it's up to them to set the price, which is how the same piece might end up being sold for $9.99, $19.99 and $39.99 depending on where you buy it. "The world of shopping for garments is buyer beware," says Metchek. "There's nothing controlling price."
In May, the popular Instagram account @diet_prada posted several side-by-side images of "It" girl-beloved brand I.Am.Gia's pieces next to listings of lookalike styles on Alibaba, the Chinese wholesale marketplace. The implication of the post was that I.Am.Gia's clothes are sourced from cheap distributors (Alibaba's offerings aren't known for their superior-quality), a charge the duo behind Diet Prada has made before. In January, they also accused the label of ripping off Australian indie brand Daisy and "downgrad[ing] their creations into a cheap, pervasive import business."
As some commenters on the Alibaba post pointed out, however, the brand's relationship with the marketplace is tough to determine from a few screenshots, and I.Am.Gia didn't respond to a request for comment for this piece. While some brands do source suppliers through the marketplace, including those that offer private-label services, one thing Alibaba is known for is prolific knockoffs, and sellers have been known to target smaller brands — particularly those like Daisy with large social media followings and influential fanbases.
Brand value, Metchek points out, is a legitimate accounting value that's factored into the end cost of a garment, and one in which companies like I.Am.Gia and Fashion Nova clearly invest heavily. (Keeping an army of Kylie clones on retainer doesn't come cheap, you know.)
"It's not cheating the consumer," she argues, "because the consumer has the opportunity to see from whom they want to buy it." It's not just private label products whose origins are deliberately obfuscated — your $600 sneakers may be made in the same factory as $60 Skechers, and your $180 leggings may be virtually identical to a $40 pair.
She's right about one thing: caveat emptor, or buyer beware, is something more of us should remember while we shop — in fact, it may be more important than ever in today's competitive e-commerce era.