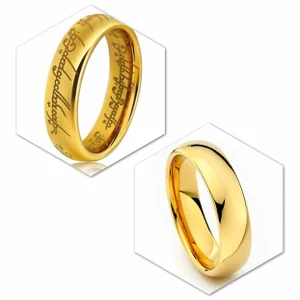 You probably know that if you want a ring, you can buy one from any store. But there are other options, too! What if you want to design your ring? What if you're going to make a custom ring for someone else? And why should you get yourself custom rings anyway?
What is a Custom Ring?
A custom ring is a piece of jewellery made to order according to the customer's specifications. The customer may choose the ring's design, shape, size, and metal and engrave a message or symbol on the band. Custom rings are usually more expensive than ready-made rings, but they are also more unique and personal.
Why Choose One?
When you're ready to purchase a ring, you may wonder why you should choose a custom ring over an off-the-shelf ring. Here are some reasons to consider a custom ring:
You can get precisely what you want: With a custom ring, you get to pick every last detail, from the metal to the stone(s) to the setting. This means that you can create a ring that is truly unique and perfect for you.
You can work with an experienced jeweller: When you work with a custom jeweller, you'll have access to their expertise and knowledge. They can help you choose suitable materials and design a ring that will stand the test of time.
You can get a better value: Because custom rings are made to order, they often cost less than ready-made rings. And, since you're working with a skilled jeweller, you can be confident that your money is well-spent.
You can support local businesses: When you buy a custom ring, you're supporting a local business and helping to keep the economy strong.
How to Get One?
There are many reasons to get a custom ring. Maybe you want to commemorate a special occasion or represent your personality. Getting a custom ring made can be a fun and stressful experience, so here are a few tips to keep in mind.
The first thing to do is decide what metal you want your ring to be made from. Gold, silver, and platinum are all popular choices. Once you've decided on the metal, you'll need to choose a design. This can be anything from a simple band to an intricate pattern. If you're unsure what you want, many jewellers can help you come up with a perfect design.
What are the Differences Between Different Rings?
There are many types of rings, but custom rings are a step above the rest. When you get a custom ring made, you can choose the exact materials, style, and design that you want. This means that your ring will be one-of-a-kind and unique to you.
Bespoke and custom rings are made with much more care and attention to detail. Every aspect of the ring is designed specifically for the person wearing it. This makes custom rings an exceptional piece of jewellery that will last a lifetime.
Another great thing about custom rings is that they can be made to fit any budget. Whether you're looking for a simple silver band or an intricate gold ring, you can find something that fits your needs without breaking the bank.
Conclusion
A custom ring is a great way to express your personality and style. It is also an excellent gift for someone special in your life. Whether you are looking for a unique engagement ring, a fashion statement, or a sentimental gift, custom rings are always cherished.